Muddler Minnow
Tied by Barry Gardner for our second fly swap.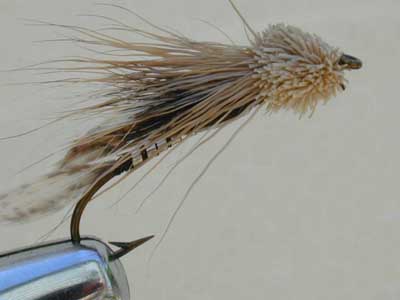 Barry's Notes and Instructions:
Size 6 to 10 (Size 8 recommended in a shorter shank hook, 3x or 4x)
Turkey Feathers (Wing)
Squirrel Tail
Deer Hair (preferrably from the neck and back)
Flat Gold Tinsel
Options
Can add flashabou with deer hair to add sparkle, a bead head, and a red tag in the tail - use red floss for that.
First start with wrapping your thread onto the string, and go to the back.
Select a piece from a turkey feather, and tye it in on top of the shank of the hook.
After tying the turkey, get a piece of flat gold tinsel, tye that in and wrap forward, wrap about three quarters of the shank and tye down.
Next take two pieces of turkey feather and tye in as wings, one on each side.
Then take a small amount of squirrel tail, and tye in over top of the wings.
Now take deer hair, lay it on top of everything else, let it go about 3/4 of the way back.
Let the butt ends stick out, just push them back, then take another clump, and spin it, continue this until it's packed tight and then tye off.
Now hold the fly pushing the all the butt ends forward, and trim the hair down until they take a neatly trimmed cone shape.
Place head cement on the fly, and it's finished!
A great brook trout fly! Barry says: "I have found that this fly will catch more Brookies than any other fly around."