Awesome Smallmouth On The Fly - Thames River
South-Western Ontario
The privilege of fishing with Ian James - lots of fish, knowledge, and fun.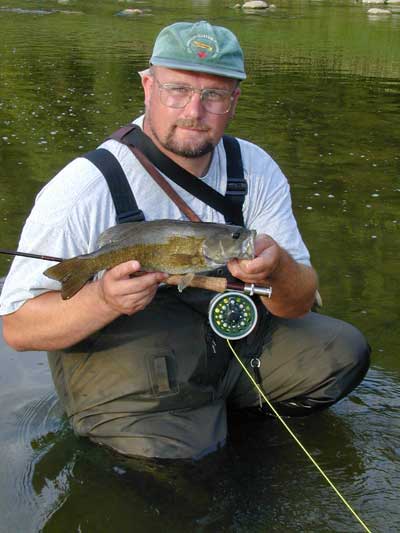 Smallmouth on the flyrod! The thought of it can get my heart thumping. When Ian James called me up earlier this month and told me that he had a day available the following week for some smally fishing, I jumped at the chance. For a couple of reasons.
First, I truly believe that smallmouth bass were created for fly anglers. Second, an opportunity to fish with Mr. James is not something one should ever ignore.
Let's get to reason number one: Smallmouth bass are awesome! I know that a lot of fly anglers who worship trout are going to scoff at this, but that's their problem. They either have never tried flyfishing for smallmouth bass, or their own prejudices are such that they might not know 'awesome' when they feel it.
If you have ever experienced the sight of a smallie snapping at your top water fly, and then begin it's angry and aggressive fight that include tail slapping water dances mixed with diving, driving and darting runs, you would have to agree that pound for pound, a smallmouth bass exceeds a trout both in spiritedness and strength.
Don't have any big top water flies? No problem. Find a nice bit of pocket water, and start nymphing. Yup, that's right - smallmouth bass will take nymphs. Surprisingly, I've heard a few fly anglers laugh at the idea that a bass would make a great quarry while nymphing. Keep laughing - Ian and I caught probably close to 15 fish while nymphing.
The second reason why I jumped at the opportunity is simply that fishing with a fantastic fly angler, an accomplished and creative fly tyer, a great guide, and a very funny man can make for a memorable day. And memorable it was! Although we were primarily fishing for smallmouth bass, I managed to fight a large carp (yes, even carp will take a nymph!) for about 10 minutes before it broke off, and Ian had a pike viciously remove fly and a couple of feet of leader.
The real story though was the bass. We began our fishing downstream of a well populated area on a river in South Western Ontario. I've been sworn to secrecy as to the exact location, but I can tell you that the Thames River is home to the fish we were hunting. For the first hour or so, there was very little action, but as we continued to wade the river, the fishing became pretty hot.
Ian selected and tied onto my leader a fly he has created and appropriately named the "Bass Slammer". After pointing out a flat that he knew held fish, I casted the leggy, foamy, long tailed contraption and begin jerk stripping line. Within seconds, there was a major commotion in the river as a 14" smallie tried to swallow the bass slammer and the fight was on. What a hoot!
After several more fish, in the 12" to 15" range, it was time to move on. For about half an hour, the fishing was very slow, and Ian decided it was nymph time. From his box, he selected another one of his creations, this one without a name, but also very effective. Several drifts into some deep pockets near boulders produced some pretty nasty fightin' fish! Ian spent a great deal of the afternoon razzing me about a behemoth smallmouth, probably in the 20" range, that I had on for about 5 minutes before it managed to spit the fly. That was a heartbreaker. Ian's razzing didn't help much.
Ian, who fishes this area regularly, advised me that we had actually hit a slow day. When he has guided in the area, it apparently is common for some of his clients to catch and release over 30 fish. "It's wonderful to see the look in someone's eye when they've hooked a 19 or 20 inch bass. After 20, it's a real thrill, especially if you've never done any serious smallie flyfishing," Ian said. Of course, there are a lot of small ones too, but they are just as fun. I couldn't stop laughing after landing about 5 or 6 ten to twelve inchers, that had attacked James' 'Bass Slammer', and feeling how even the small ones can be so feisty.
"Sometimes, it's pretty easy to become complacent after catching a bunch of small ones," Ian noted. "Then, all of a sudden, boom! You've got a hit from a big one, and you weren't ready for it." How true. Ian's teasing me about the big one that got away, kept reminding of that bit of wisdom.
If you ever have an opportunity to fish with Ian James, don't pass it up. Not only is he a great guide, he's also a very skilled teacher, as well. I am always learning new things when I have the rare chance to fish with him.
Successful River Smallmouth Tactics
"Don't waste time. If you've covered the water around you, and had no hits, move quickly to the next promising area."
Ian James' strategy works very well. Often, you can watch anglers seemingly glued to the same spot on a river, casting to the same area for hours at a time. I suppose this is o.k., but in James' mind, it's a waste of time, if you really want to catch fish.
I have to admit that I tend to be a 'slow' angler. Although I obviously want to catch fish, I find myself spending a lot of time at any single pool, regardless of whether or not I've been successful in enticing a fish to hit. When fishing with Ian, I found that I probably stick around too long. Ian kept me moving, and of course, his strategy was very successful. Lesson number one: Always listen to your guide!
ian james bass fly fishing
If you're out bass fishing, remember that bass like big! For the most part, you can probably use the same or similar flies that you would be using for trout, but go a couple of hook sizes larger. This is especially important if you really want to tie into some of the bigger ones. When we were fishing the Thames together, it wasn't uncommon for an 8" smallie to hit one of Ian's 'bass slammers', which would have been half the full size of the fish!
Although we had some great success with top water flies, don't be afraid of using nymphs! Check out Ian's 'No Name Nymph' and tie up a bunch. These were best fished in deeper pocket waters, around large rocks and boulders, with a small split shot attached to the leader a couple of feet above the fly. In productive smallmouth rivers, you'll probably find a whole slew of fish to be caught in a deep pocket on the edge of a boulder. Sometimes, these spots can be deceiving so keep a good eye out!
Try different stripping techniques. When fishing the topwater, Ian seemed to be successful with a regular, 'strip, stop, strip, stop' technique. I found that irregular 'jerky' line strips worked well for me, with a fairly fast rate of retrieve.
Look for bubbles on the water. "Bass like bubbles for some reason," James pointed out to me. We caught a lot of fish with top water flies that were cast to parts of the river that contained bubbles on the surface. I'm not really sure what significance the bubbles have - I just know there are fish there.
Finally, be careful. Especially when wading rivers unfamiliar to you. This of course should go without saying! Ian says that it helps him to wade safely when he carries a camera, and I'd have to agree with him. For some reason, we tend to be more careful when there is the risk of damaging some expensive piece of equipment and possibly ruining the pictures we have. So, make sure you carry a half decent camera with you!